Human Factors Awareness Training (HFAT)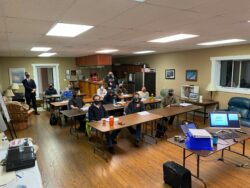 November 2020
In November 2020, QAC presented another HFAT course to NorthWest FabWorks Inc. (NFI) and Cota Aviation Ltd.
The HFAT would not have been possible during these financial times of constraint, without the assistance of the 'B.C. Employer Training Grant Program (ETG). Please see below for more detail on the EGT.
Without question, it was an interesting experience for everyone having to wear masks and maintain personal distances. Nevertheless, the training was lively, informative and interactive. QualaTech would like to thank Mr. Kyle Kusznieryk - President NFI, Tanson Precision & AE Cota Aviation; Mr. Dorian Cota - PRM Cota Aviation and Mr. Nick Temos - Director of Operations, NFI. I would also like to thank my Associate Consultants / Instructors Mr. Bruce Macdonald - HFBC and Mr. Bill Yearwood - Safety Action Investigations for their assistance and hard work. Together the combined experience of all Instructors, amounting to over 120 years, represented a truly remarkable knowledge transfer. Of further note is Mr. Bill Yearwood, who had personally investigated many of the aviation incidents/accidents discussed during the 2-day course - "right from the horse's mouth" - so to speak!
Note: For more information on QualaTech's Associates, please Ref. the link 'About QualaTech' at the top of the page.